Now it's over – the 24 hour read-a-thon. I had a great time, meeting new people and reading books. I finished 3 books and 1½ graphic novels. I didn't get to my reading goal but I don't feel too bad about it because I wanted to have that many books to have some variety when selecting the next book to read.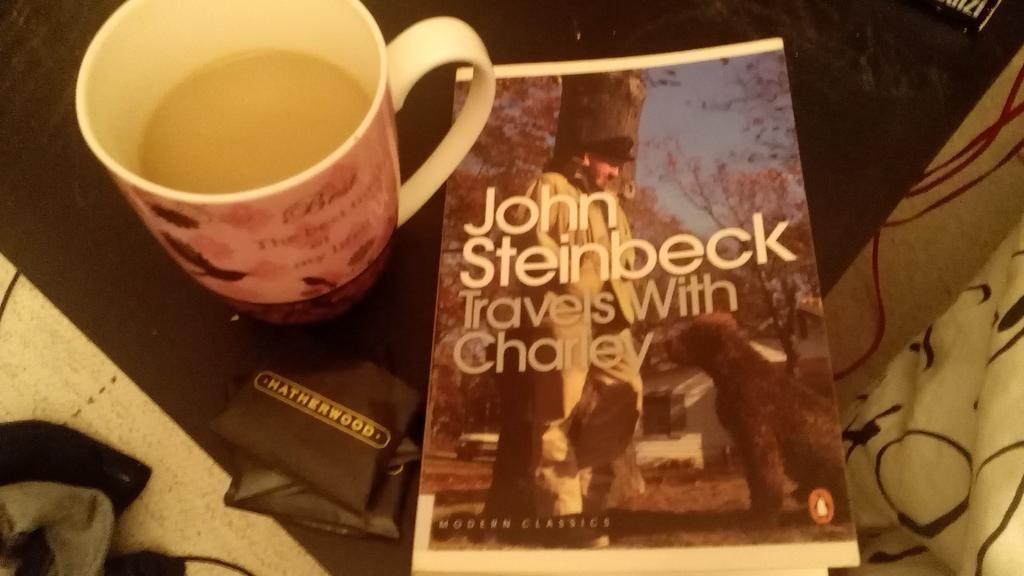 The first book I finished was John Steinbeck's Travels With Charley. In this book Steinbeck describes how he travels around the USA with his dog. He wanted to do this road trip because he felt that he couldn't write anymore about the America because he didn't know it. It's only 200 page book but still this took most of my time to read, about six hours in total. I really liked it though, it was really beautifully written and how Steinbeck described the places and people he met, it almost was like I was there, seeing everything he could see. Also there were many beautiful sentences in this book that I would love to citate. I gave it 4 stars in Goodreads.
The second book I read was Witch Finder by Ruth Warburton. It's a YA, fantasy book and 374 pages long. I read this one lot faster than Steinbeck's book. I think it was because fantasy is more familiar genre to me so I'm used to reading it and also it being YA it didn't have difficult sentences. Witch Finder is about Luke who wants to become a witch hunter because a black witch killed his parents. To become one he has to kill a witch. And he choose to kill Rosa Greenwood. Rosa is trying to save her family from losing their home when she meets Luke. Luke has only two weeks to kill her but can he do it? This was a nicely written book but it didn't really surprise me any way. Even though there was a small cliffhanger at the end of the book, it doesn't really want to make me read the next book. I gave this 3 stars in Goodreads.
After these two books I wanted to read something different and decided to pick up Persepolis by Marjane Satrapi. This is a graphic novel about Marjane herself when she was a kid in Iran. There is war and Islamic revolution and Marjane had to grew up in the middle of this changes. It was a really good read, I got to know a lot about history of Iran that I didn't know. I'll be definitely going to read the second graphic novel soon. I gave this 5 stars in Goodreads.
At this time the clock was already over 2 am in Finland. I decided to read couple chapters from Percy Jackson and the Sea of Monsters before going to sleep. I slept for about seven hours and woke around 11 am. My boyfriend was still asleep so I decided to stay in bed and finish my book, hoping that I wouldn't wake him up. I finished it one hour before the end of the readathon. I think most of you what Percy Jackson is, but the book I was reading is the second book in the series. Percy is half blood which means that he's father is Poseidon the god of sea. In the Sea of Monsters someone has poisoned the tree that protects the summer camp where Percy goes and only way to save it is to find the Golden Fleece. But nobody has seen it in hundreds of years. I gave this book 5 stars in Goodreads because it was just that good.
Then I had only about hour to left of the read-a-thon. I decided to start reading Maus 1 and got it about half way through. It's about WW2 when Germans did bad things to Jews. The mouse in the book are Jews and the cats are Germans and with this Maus shows us how brutally Jews were treated. Based on what I have read, I feel it's a great and sad story and I probably give it 4 or 5 stars in Goodreads.
End of Event Meme:
Which hour was most daunting for you?  
18th because that was the hour I first woke up but decided to sleep still.
Could you list a few high-interest books that you think could keep a Reader engaged for next year?
Persepolis by Marjane Satrapi
Maus by Art Spiegelman
Do you have any suggestions for how to improve the Read-a-thon next year?
No, this really great and I am so glad that I participated!
What do you think worked really well in this year's Read-a-thon?
The cheerleaders did a great job in twitter and I think the Goodreads group was a great idea, now I could go there and meet new people before the read-a-thon started.
How many books did you read?
3 books and 1½ graphic novels.
What were the names of the books you read?
Travels With Charlie
Witch Finder
Persepolis
Percy Jackson and the Sea of Monsters
Maus 1
Which book did you enjoy most?
Persepolis.
Which did you enjoy least?
Witch Finder.
How likely are you to participate in the Read-a-thon again? What role would you be likely to take next time?
I'll definitely participate next time too. I would like to be a cheerleader next time if I have enough time.
I want to thank you to people who organized this, everyone who participated, cheered for me or just commented on my tweets, thank you so much, without you I wouldn't have made it! Thank you also for the door prize I won! Hopefully I see you again, at least on the next read-a-thon!