Waiting on Wednesday is weekly event hosted by Jill from Breaking the Spine. It spotlights the new and upcoming releases that we are eagerly anticipating. This week's book that I can't wait to read is: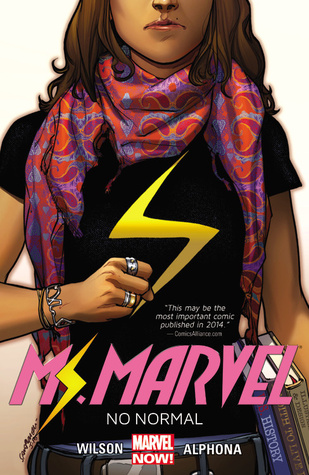 Ms. Marvel, Vol. 1: No Normal
By: G. Willow Wilson
Will be published October 30th, 2014 by Marvel
Goodreads synopsis: Marvel Comics presents the new Ms. Marvel, the groundbreaking heroine that has become an international sensation!
Kamala Khan is an ordinary girl from Jersey City — until she's suddenly empowered with extraordinary gifts. But who truly is the new Ms. Marvel? Teenager? Muslim? Inhuman? Find out as she takes the Marvel Universe by storm! When Kamala discovers the dangers of her newfound powers, she unlocks a secret behind them, as well. Is Kamala ready to wield these immense new gifts? Or will the weight of the legacy before her be too much to bear? Kamala has no idea, either. But she's comin' for you, New York!
It's history in the making from acclaimed writer G. Willow Wilson (Air, Cairo) and beloved artist Adrian Alphona (RUNAWAYS)! Collecting MS. MARVEL (2014) #1-5 and material from ALL-NEW MARVEL NOW! POINT ONE #1.
I haven't read a lot of superhero comics, so this is a new area for me. The first time I heard about Marvel making Ms. Marvel a muslim I was thrilled because there's a lack of diversity on superhero comics in my opinion. Luckily others have noticed this too, Thor being a woman etc. G. Willow Wilson being the author of this graphic novel is one of the reasons I really anticipate this. I finished, actually just before writing this Alif the Unseen by her, which I think is her debut novel and it was brilliant. It was funny, it made be think and just awesome. I'll be posting a review of that hopefully soon.
What books are you anticipating to read? Tell me on the comments, please! If you want to read more about what other's are waiting on, go to Breaking the Spine, where there links to other posts.